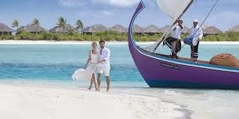 Visit the Maldives
The Maldives, officially known as the Republic of Maldives, is a cluster of islands on the equator in the Indian Ocean. You'll find lots of sun, clean water, and plenty of time to relax and soak in the beauty of these islands.
You will be surprised to find that each resort is on its own island just few kilometres apart. Of course, the more your budget, the more exclusive the party gets. There are more than 100 resorts to choose from!
Things to do
The tropical islands offer a variety of things to do. For beach people, there are long stretches of clean, white sandy beaches. You will love your days at Maldives soaking up the sun and swimming in the sea
For the deep sea divers, you will find the underwater life fascinating. Maldives is also known to be a diver's paradise for obvious reasons. If you are staying longer than a week, make sure to bring your own snorkel equipment.
You will find all kinds of resorts that easily match your budget. However, if you are a budget traveller, make sure to check the website and book your rooms early. If, after arrival, you are unhappy with what you've booked then getting another room at a moment's notice can be very expensive.
Each resort offers unique facilities. Be sure to check if the resort has a pool, a gym, or a dive centre and if they offer buffet or fine dining.