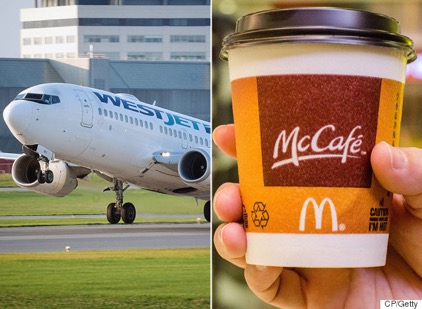 McDonald's Partners with Westjet
The competition for a slice of the large lucrative market of coffee lovers has just escalated to another level. McDonald's has partnered with WestJet Airlines Ltd. According to reports posted online, McDonald's will be serving WestJet passengers freshly brewed coffee on Flight 659 from Toronto to Calgary on Mondays.
This symbiotic business partnership is not the first in the world. Second Cup Ltd, another leading coffee shop company, signed a similar partnership with Air Canada. Another rival company, Starbucks, joined hands with Porter Airlines Inc. The country's largest café chain, Tim Horton's Inc., has yet to partner with any airline, but rumor has it that the company was interested in joining hands with the airline but failed. Other sources have revealed that Starbucks Canada was also unsuccessful in seizing the WestJet contract.
McDonald's will definitely benefit tremendously from this deal as it will be able to sell its brand and products to non-traditional locations such as hospitals and learning facilities. Over the last several years, McDonald's coffee sales have remained constant but the management is confident that this new exposure will help them increase sales and profits.
Tim Horton's is one of the cafés that have managed to springboard their sales by targeting non-traditional market niches over the last few years. The success it has achieved so far is one of the main reasons why it is ranked the largest café chain the country.
McDonald's management and marketing teams have to work smart and hard to ensure that the partnership delivers real results. They will need to come up with new customer-oriented marketing strategies as well as measures to ensure that they serve nothing but the best coffee to their customers.