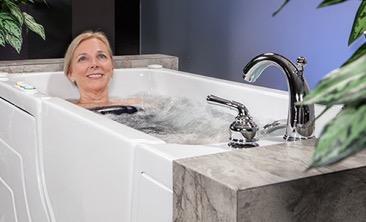 Advantages of a walk-in tub over a conventional tub
So, what is all the excitement about the popularity of walk-in tubs? We have seen ads in magazines and on television, but what benefits does a walk-in the tub have over a conventional tub? Does it meet your demands? Is it worth the investment?
Avoiding slips and falls
Walk-in tubs are designed to prevent slipping and falling. Walk-in tubs feature hand rails, textured pads and seats to help users keep their heads above water. Hospital costs associated with falls in the bathroom are a great concern with the increased aging population. Walk-In tubs can be of great help in reducing these hospital costs.
Hygiene
As you age, bathing and maintaining personal hygiene can become more challenging. Some walk-in tubs include a bidet to help a senior person with cleanliness.
Combating limited mobility
Regular bathtubs often present risky situations for aging seniors or people with movement issues. When entering or leaving a bathtub, many accidents can occur, especially if the person has mobility problems. Walk-in bathtubs are the best answer to this problem. As the tubs have doors that open and close easily and securely, they make the task of entering and exiting the bathtub easy.
Showers
Walk in tubs can also operate as a sit-down or stand-up shower as well as a deep soaking tub. Quality companies provide a faucet set with an extendable showerhead, which can be hung on a riser rod so it can be used in a seated position or as a stand-up shower. It can, therefore, have a dual-purpose - a shower and a walk-in tub.
If you are worried about the safety of your bathroom, consider investing in a walk-in tub in the next bathroom improvement plan. Most walk-in bathtub retailers offer a variety of models. Consider door designs as the size and shape can influence the look and access to the bathroom.